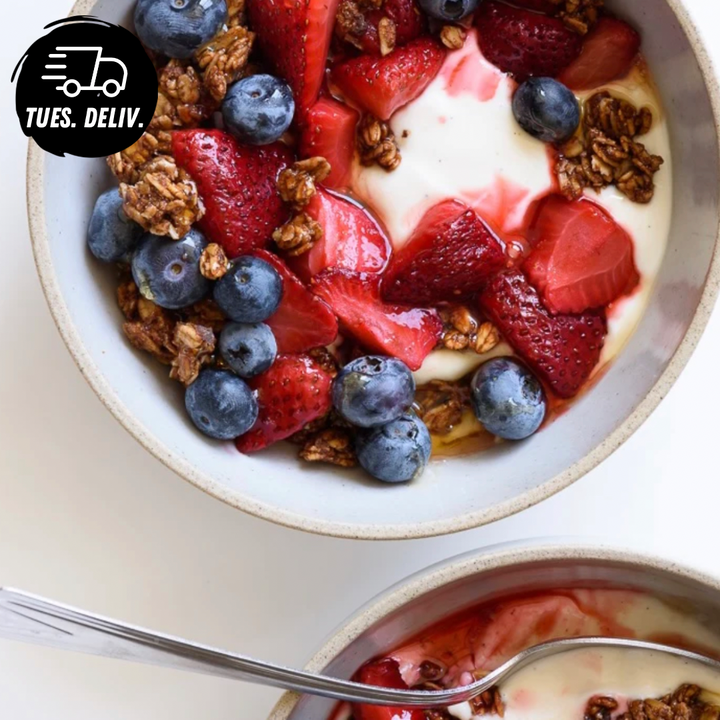 NOT-SO VANILLA PROTEIN BOWL
This breakfast bowl is one you can enjoy every day of the week! 

Thick, creamy and super delicious low-fat vanilla yogurt is blended with chia and hemp seeds, which are an excellent source of plant-based protein, fibre, healthy fatty acids and packed full with a wide variety of minerals.
Generously topped with with perfectly toasted muesli, crushed walnuts, whey protein, almond flakes, seasonal berries and a drizzle of organic honey.
A nutritious and incredibly tasty breakfast to kickstart your morning the right way!
Note: Delivers Tuesday. 
NUTRITION INFORMATION 
Servings per package: 1.00

Serving size 270g

Average Quantity per Serving
Average Quantity per 100g
Energy
1456 kJ (348 calories)
539 kJ
Protein
26 g
10.4 g
Fat, total
11 g
4.4 g
-Saturated
3 g
1.2 g
Carbohydrate
33 g
13.2 g
-Sugars
16 g
 6.4g
Sodium
240 mg
96 mg
Ingredients: Rolled oats, low-fat yogurt, skim milk, organic honey, chia seeds, hemp seed, whey protein powder, toasted muesli, seasonal fruit- strawberry, blueberry, raspberry, almond flake, coconut, may contain nuts- peanut, cashew, walnut.


Allergen Notice: All meals are prepared in a kitchen whose environment contains eggs, fish, milk, sesame, soy, nuts, tree nuts, gluten, sulphites and lupin. Though best practices are used in preparing the meal, inadvertent cross-contamination may occur. We cannot guarantee the complete absence of these allergens. Mr Meals does not advise the consumption of it's meal should you have any allergies.