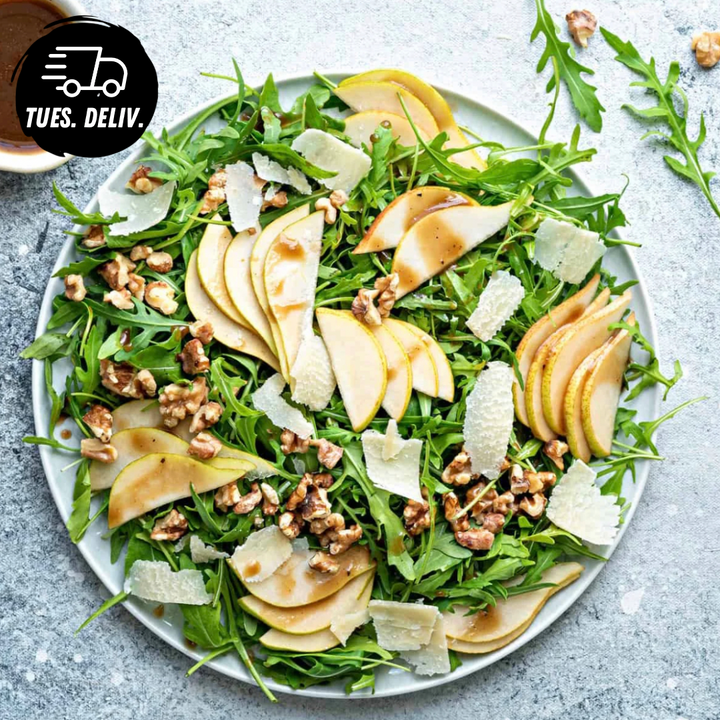 SPINACH, ROCKET AND APPLE SALAD W PARMESAN
Indulge in a delightful symphony of flavours with our Spinach, Rocket & Apple Salad featuring a harmonious blend of fresh ingredients that awaken your taste buds.
Crisp baby spinach and peppery rocket leaves create a vibrant green base, complemented by the crisp sweetness of sliced apples. The real star of this dish, however, is our exquisite Parmesan & Balsamic Dressing. Crafted with care, this dressing drizzles over the salad, infusing it with a tantalizing combination of rich, aged Parmesan cheese and the sweet tang of balsamic vinegar.
Every bite is a journey through layers of textures and tastes, with the creamy Parmesan adding a luxurious touch to the crisp freshness of the greens and apples. Whether enjoyed as a starter or a wholesome meal, our Spinach, Rocket & Apple Salad promises to be a deliciously unforgettable dining experience. Taste the balance of nature's bounty in every bite, exclusively on our menu.
Boring salads are out for the spring time! You won't be disappointed.
Note: Delivers Tuesday.
NUTRITION INFORMATION 
Servings per package: 1.00
Serving size 250.00g
Average Quantity per Serving
Average Quantity per 100g
Energy
1058 kJ 

(253 cal)

423 kJ
Protein
4 g
1.3 g
Fat, total
13 g
4.3g
-Saturated
5 g
1.6 g
Carbohydrate
30 g
10 g
-Sugars
5 g
1.6 g
Sodium
420 mg
140 mg
Ingredients: Baby spinach, granny smith apple, rocket, parmesan, sultana, walnut, lemon, balsamic vinegar, organic honey, salt black pepper, olive oil.

Allergen Notice: All meals are prepared in a kitchen whose environment contains eggs, fish, milk, sesame, soy, nuts, tree nuts, gluten, sulphites and lupin. Though best practices are used in preparing the meal, inadvertent cross-contamination may occur. We cannot guarantee the complete absence of these allergens. Mr Meals does not advise the consumption of it's meal should you have any allergies.