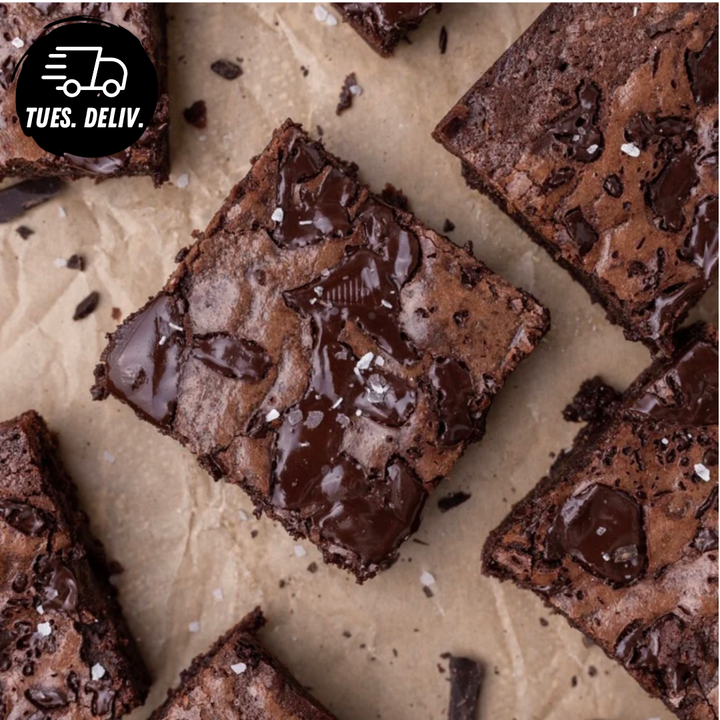 FUDGY PROTEIN BROWNIE
These chocolate brownies are packed with protein and the perfect addition to a well rounded diet! These gooey and fudgy protein brownies are your new favourite post-workout snack! 
For those times when you just have to have something sweet but not too naughty. Loaded with low-sugar dark chocolate chips and a sprinkle of walnuts.
Note delivers: Tuesday.
NUTRITION INFORMATION 
Servings per package: 1.00
Serving size 40.0g (1 slice)
Average Quantity per Serving
Average Quantity per 100g
Energy
798 kJ
1995 kJ
Protein
9 g
36 g
Fat, total
8 g
32 g
-Saturated
2 g
8 g
Carbohydrate
12 g
48 g
-Sugars
6 g
 24 g
Sodium
150 mg
600 mg

Ingredients: Almond flour, skim milk, stevia, vanilla seeds, banana, whey protein powder, organic peanut paste, sugar free chocolate powder, organic honey, chia seed, coconut, sugar free dark chocolate, may contain various nuts: walnut, cashew, peanut, hazelnut.

Allergen Notice: All meals are prepared in a kitchen whose environment contains eggs, fish, milk, sesame, soy, nuts, tree nuts, gluten, sulphites and lupin. Though best practices are used in preparing the meal, inadvertent cross-contamination may occur. We cannot guarantee the complete absence of these allergens. Mr Meals does not advise the consumption of it's meal should you have any allergies.