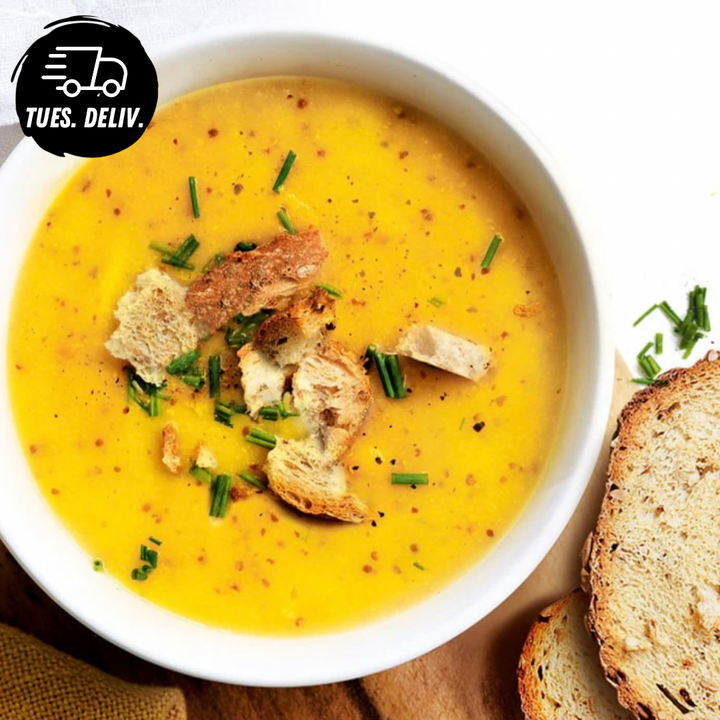 LOADED VEGETABLE SOUP
Introducing our delicious Vegetable Soup, a comforting and nourishing blend of nature's finest ingredients. Crafted with love and care, this soup is a delightful medley of vibrant vegetables, aromatic herbs, and wholesome goodness. Perfect for those seeking a healthy and flavoursome meal, our Vegetable Soup will satisfy your taste buds while providing a nutrient-packed experience.
Each spoonful of our Vegetable Soup is a burst of vibrant colours and enticing aromas. Packed with an assortment of freshly harvested vegetables, including carrots, celery, and more, this soup is a celebration of nature's bounty. We carefully select the finest produce to ensure that every spoonful is brimming with flavour and nutrition.
Our Vegetable Soup is slow-cooked to perfection, allowing the flavours to meld together harmoniously. The result is a rich, savoury broth that envelops your senses and brings a comforting warmth to your palate. With every spoonful, you'll experience a delightful combination of textures, from the tender vegetables to the perfectly cooked grains and legumes.
Our Vegetable Soup is not only delicious but also incredibly nutritious. Packed with essential vitamins, minerals, and antioxidants, this soup provides a wholesome dose of goodness. It's a fantastic way to incorporate more vegetables into your diet, helping you maintain a well-balanced and healthy lifestyle.
Note: Delivers Monday.
NUTRITION INFORMATION 
Servings per package: 1.00
Serving size 400g
Average Quantity per Serving
Average Quantity per 100g
Energy
1000 kJ 

(239 cal)

250 kJ
Protein
18 g
4 g
Fat, total
5 g
1 g
-Saturated
<1 g
<1 g
Carbohydrate
36 g
8 g
-Sugars
5 g
 1.3 g
Sodium
700 mg
175 mg
Ingredients: Carrot, sweet potato, celery, onion, olive oil, black pepper, salt, lemon, parsley, shallot.

Allergen Notice: All meals are prepared in a kitchen whose environment contains eggs, fish, milk, sesame, soy, nuts, tree nuts, gluten, sulphites and lupin. Though best practices are used in preparing the meal, inadvertent cross-contamination may occur. We cannot guarantee the complete absence of these allergens. Mr Meals does not advise the consumption of it's meal should you have any allergies.