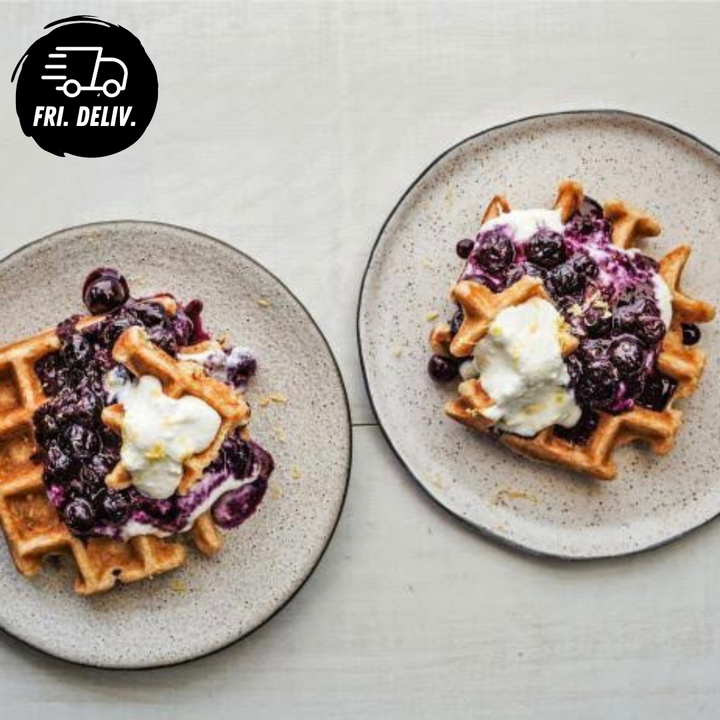 BREAKFAST WAFFLES W BERRY COMPOTE
Introducing our delightful Waffles with Berry Compote, Ricotta, and Maple Syrup—a heavenly breakfast treat that will awaken your taste buds and leave you craving for more.
Our golden-brown waffles are cooked to perfection, achieving a delicate crispness on the outside while remaining fluffy and tender on the inside. The airy texture provides the ideal canvas for an exquisite medley of flavours.
To elevate these waffles to new heights of indulgence, we accompany them with a luscious berry compote. Bursting with the natural sweetness of fresh berries, this compote infuses each bite with vibrant fruity notes and a tangy twist. 
Experience the magic of our waffles and let the harmonious blend of berry compote, creamy ricotta, and pure maple syrup transport you to a realm of unparalleled breakfast pleasure.
Enjoy for breakfast, Indulge before you hit the gym, or treat yourself with a sweet reward after your workout. You have surely deserved it!
Note: Delivers Friday. 
NUTRITION INFORMATION 
Servings per package: 1.00
Serving size 200.00g
 
Average Quantity per Serving
Average Quantity per 100g
Energy
1590 kJ 

(380 cal)

795 kJ
Protein
22.3 g
11.2 g
Fat, total
11 g
5.5 g
-Saturated
1.8 g
1 g
Carbohydrate
44 g
22 g
-Sugars
11 g
5.5 g
Sodium
300 mg
150 mg
 
Ingredients: Flour, skim milk, egg, butter, baking powder, vanilla pod seeds, strawberry, raspberry, blueberry, almond flake, monk sweetener, sugar-free maple syrup, light ricotta cheese, coconut, may contain traces of nuts- peanut, almond, cashew, walnut, salt, olive oil.

Allergen Notice: All meals are prepared in a kitchen whose environment contains eggs, fish, milk, sesame, soy, nuts, tree nuts, gluten, sulphites and lupin. Though best practices are used in preparing the meal, inadvertent cross-contamination may occur. We cannot guarantee the complete absence of these allergens. Mr Meals does not advise the consumption of it's meal should you have any allergies.