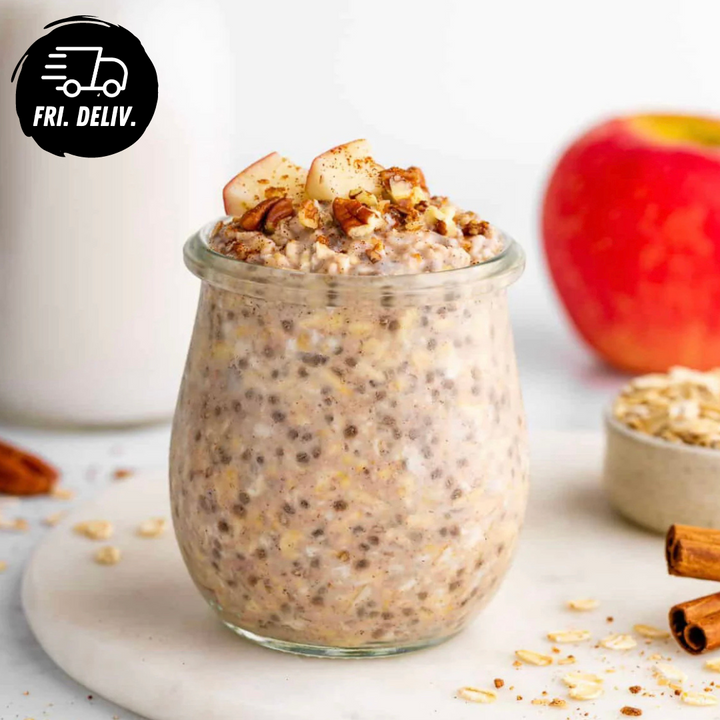 APPLE AND CINNAMON OVERNIGHT OATS
Indulge in the delightful harmony of flavours with our Apple Cinnamon Overnight Oats. Crafted to perfection, this wholesome meal combines the richness of rolled oats with the natural sweetness of juicy apples and a touch of warming cinnamon. As you take the first spoonful, you'll be greeted by the comforting aroma of cinnamon that pairs seamlessly with the crispness of fresh apples.
Prepared with care, our overnight oats are a convenient breakfast option that doesn't compromise on taste or nutrition. The oats are soaked to a creamy consistency overnight, allowing the flavours to meld together while maintaining the integrity of each ingredient. Whether you're starting a busy day or savouring a moment of tranquility, our Apple Cinnamon Overnight Oats provide a balanced and nourishing experience.
Experience the pleasure of a hearty meal that fuels your day with essential nutrients and the heartwarming essence of apple and cinnamon. With every bite, you'll taste the dedication we put into creating a wholesome breakfast that satisfies both your palate and your well-being.
Note: Delivers Friday. 
NUTRITION INFORMATION 
Servings per package: 1.00
Serving size 350.00g
 
Average Quantity per Serving
Average Quantity per 100g
Energy
1443 kJ 




(345 cal)

412 kJ
Protein
24 g
6.8 g
Fat, total
7 g
2 g
-Saturated
 2 g
0.5 g
Carbohydrate
45 g
12.8 g
-Sugars
12 g
3.4 g
Sodium
150 mg
42 mg


Ingredients: Rolled oats, low-fat yogurt, skim milk, organic honey, chia seeds, hemp seed, apple, cinnamon, almond flake, organic peanut butter, coconut, may contain nuts- peanut, cashew, walnut.

Allergen Notice: All meals are prepared in a kitchen whose environment contains eggs, fish, milk, sesame, soy, nuts, tree nuts, gluten, sulphites and lupin. Though best practices are used in preparing the meal, inadvertent cross-contamination may occur. We cannot guarantee the complete absence of these allergens. Mr Meals does not advise the consumption of it's meal should you have any allergies.