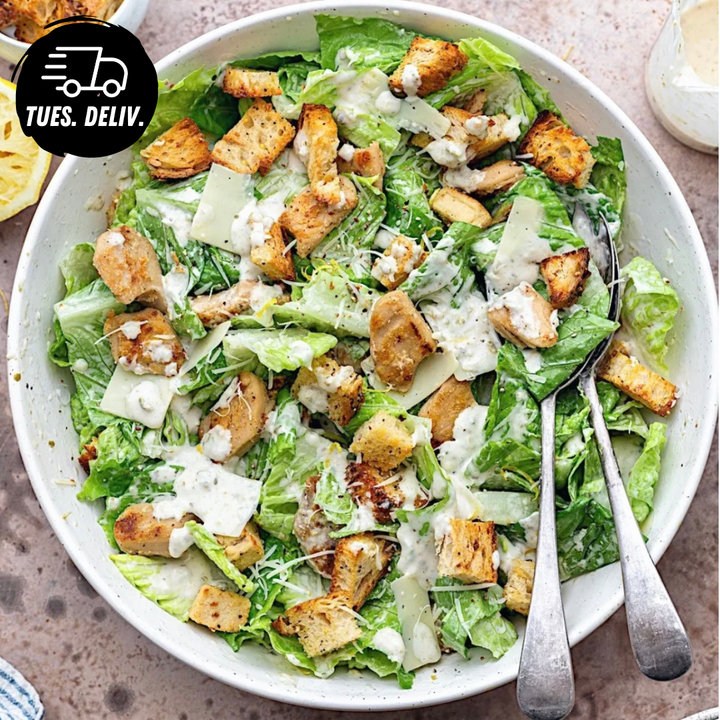 CRUMBED CHICKEN CAESAR SALAD
Experience the irresistible charm of our Crumbed Chicken Caesar Salad, a delightful creation designed to captivate your palate and simplify your meal prep routine. Crafted without the use of eggs, this sumptuous dish promises a burst of flavours that will leave you craving for more.

Take a succulent journey as you sink your teeth into tender, juicy pieces of chicken, enveloped in a golden, crispy crust. Each bite is a harmonious blend of perfectly seasoned chicken and an assortment of vibrant greens. Crisp romaine lettuce, juicy tomatoes, and a sprinkle of Parmesan cheese create a symphony of textures, delivering a gratifying feast for your senses.

Our Crumbed Chicken Caesar Salad is meticulously prepared and ready to enjoy whenever hunger strikes. Simply unwrap and savour the delightful combination of flavours, knowing that you've saved precious minutes in your day.

Say goodbye to compromise and embrace a tasteful union of flavours, textures, and effortless dining pleasure.
Note: Delivers Tuesday.
NUTRITION INFORMATION 
Servings per package: 1.00
Serving size 250.00g
Average Quantity per Serving
Average Quantity per 100g
Energy
1602 kJ 

(383 cal)

5640 kJ
Protein
36 g
14.4 g
Fat, total
15 g
6g
-Saturated
7 g
1.2 g
Carbohydrate
26 g
10.4 g
-Sugars
4 g
1.6 g
Sodium
320 mg
128 mg
 
Ingredients: Chicken breast, flour, egg, breadcrumb, parmesan cheese, caesar dressing, lettuce, crouton, lemon, salt, black pepper, olive oil.
Allergen Notice: All meals are prepared in a kitchen whose environment contains eggs, fish, milk, sesame, soy, nuts, tree nuts, gluten, sulphites and lupin. Though best practices are used in preparing the meal, inadvertent cross-contamination may occur. We cannot guarantee the complete absence of these allergens. Mr Meals does not advise the consumption of it's meal should you have any allergies.