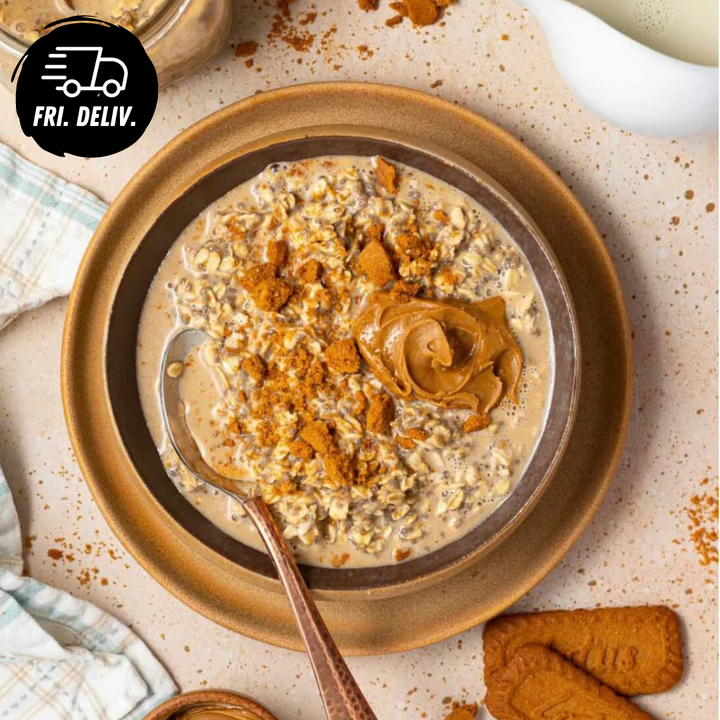 LOTUS OVERNIGHT OATS
Introducing Lotus Overnight Oats – a delightful blend of wholesome ingredients designed to kickstart your mornings with a burst of flavour and nourishment. Crafted with care, Lotus Overnight Oats combine the goodness of ancient grains and seeds, creating a truly satisfying and convenient breakfast option.
Each jar of Lotus Overnight Oats is meticulously prepared using the finest quality ingredients. The star of the show is a harmonious medley of rolled oats, chia seeds, and flaxseeds. These superfoods are packed with fibre, essential fatty acids, and antioxidants, providing you with a nutritious foundation to start your day on the right foot.
One of the key features of Lotus Overnight Oats is its versatility. The oats are soaked overnight in your choice of milk or yogurt, allowing them to soften and absorb the flavours. This slow and gentle process creates a creamy and luscious texture, perfectly melding the ingredients together. Whether you prefer a plant-based alternative or dairy, Lotus Overnight Oats can be customised to suit your dietary preferences.
Convenience is another hallmark of Lotus Overnight Oats. Each jar is portioned perfectly for an individual serving, making it ideal for those busy mornings or when you're on the go. Simply grab a jar from the refrigerator, and you're ready to enjoy a nourishing breakfast at home, at work, or even during your travels.
Lotus Overnight Oats are not just a breakfast, but a lifestyle choice. With their wholesome ingredients, delightful flavours, and convenient packaging, they are designed to make healthy eating a breeze. Start your day with a bowl of Lotus Overnight Oats and experience the perfect harmony of taste and nourishment.
Note: Delivers Friday. 
NUTRITION INFORMATION 
Servings per package: 1.00
Serving size 350.00g
 
Average Quantity per Serving
Average Quantity per 100g
Energy
1585 kJ 




(398 cal)

453 kJ
Protein
23 g
6.5 g
Fat, total
15 g
3 g
-Saturated
 4 g
1.1 g
Carbohydrate
49 g
13.4 g
-Sugars
14 g
3.4 g
Sodium
173 mg
49 mg
 
Ingredients: Rolled oats, low-fat yogurt, skim milk, organic honey, chia seeds, hemp seed, lotus biscuit, sugar free chocolate, , almond flake, organic peanut butter, coconut, may contain nuts- peanut, cashew, walnut.

Allergen Notice: All meals are prepared in a kitchen whose environment contains eggs, fish, milk, sesame, soy, nuts, tree nuts, gluten, sulphites and lupin. Though best practices are used in preparing the meal, inadvertent cross-contamination may occur. We cannot guarantee the complete absence of these allergens. Mr Meals does not advise the consumption of it's meal should you have any allergies.