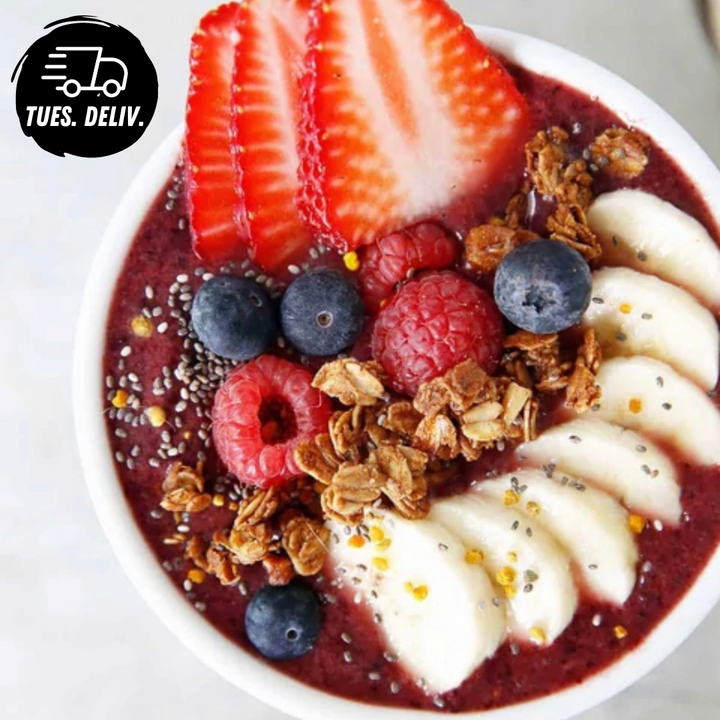 BERRY DELICIOUS ACAI YOGURT BOWL
A deliciously thick-smoothie like breakfast bowl loaded with nutritious toppings that will keep you satisfied until your next meal!

Packed full of vitamins and minerals, our Acai bowls are high in fibre, antioxidants, and vitamin C. They're also a great source of potassium and manganese! 

Fresh blueberries, blackberries and raspberries are blitzed with low-fat yogurt, topped with toasted granola, shaved coconut and almond flakes, chia seeds and a generous serving of fresh seasonal fruit and various nuts!
Note: Delivers Tuesday.
NUTRITION INFORMATION 
Servings per package: 1.00

Serving size 270g

Average Quantity per Serving
Average Quantity per 100g
Energy
1284 kJ (318 calories)
475 kJ
Protein
23 g
9.2 g
Fat, total
11 g
4.4 g
-Saturated
3 g
1.2 g
Carbohydrate
29 g
11.6 g
-Sugars
16 g
 6.4g
Sodium
240 mg
96 mg
Ingredients: Acai concentrate, low-fat yogurt, chia seeds, toasted muesli, granola, sultana, dried apricot, coconut flakes, almond flakes, whole almond, strawberry, blueberry, peanut, walnut, cashew.


Allergen Notice: All meals are prepared in a kitchen whose environment contains eggs, fish, milk, sesame, soy, nuts, tree nuts, gluten, sulphites and lupin. Though best practices are used in preparing the meal, inadvertent cross-contamination may occur. We cannot guarantee the complete absence of these allergens. Mr Meals does not advise the consumption of it's meal should you have any allergies.